TENTH GENERATION
---
58. Edward Schanely was born on 19 Mar 1827 in Washington Twp., Berks County, Pennsylvania. He resided Resided with Jacob M. Bauman after Mothers death. on 10 Apr 1848 in Douglas Twp, Montgomery County, PA. He died on 2 Jan 1873.
He was married to Catharina Bauman (daughter of John L. Bauman and Elisabeth Bauer) on 24 Nov 1855 in New Hanover Lutheran Church - Montgomery County, Pennsylvania. Catharina Bauman was born on 16 Sep 1827 in Douglas Township (Prob). She died on 22 Dec 1885 in Douglas Township and was buried in Hereford Mennonite Church Cemetery in Bally, PA. Edward Schanely and Catharina Bauman had the following children: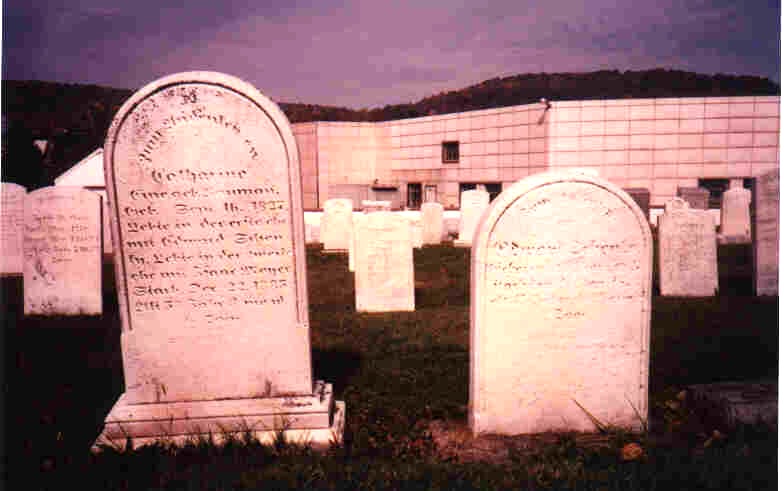 +89 i. Horace Schanely


90 ii. Emma Schoenly was born on 25 Dec 1856 in Washington Twp, Berks County, PA. She died on 6 Mar 1934.


91 iii. Catharine Schoenly was born on 24 Aug 1860 in Douglas Township. She died on 17 Feb 1928.
The headstones of Catharina Bauman & Edward Schanely at Hereford Mennonite Church Cemetery, Bally PA ---->

Return to Table of Contents